Step 1 -Surface Preparation
Step 3 -Applying the Laminate
Step 1 -Surface Preparation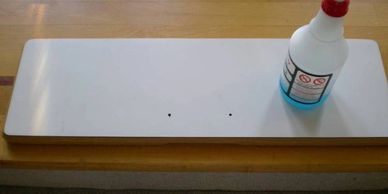 There are two types of surfaces that our customers have: Existing Laminate or Bare Wood.
Prior to 1995 Sea Ray and other boat manufacturers used a thick Formica (usually white) covering for all the cabinet work. In most cases, if the thick Formica is in good shape, our laminate can be applied on top of it.
After 1995 the manufacturing process changed to a product called Vitricor. Vitricor was far more sensitive to moisture and temperature which caused the glue to release. Cloudy laminate, bubbles and mildew behind the laminate are indications that the glue has failed. When this happens, the old laminate must be completely removed and the surface prepped as bare wood.
Bare wood prep just ensures that the supporting surface is sanded and free of imperfections.